From two stores to a national force.
Very few people know just how good home theater can be, or just how good pre-recorded music can sound. And the good stuff, the really really good stuff – the stuff you'd never see in a chain store – would blow your mind. If you ever find yourself in a World Wide Stereo, ask for the "Die Hard" demo.
_______________
World Wide Stereo (WWS) sells and installs the world's finest audio/video components and the newest smart-home applications. You can buy $20 earbuds on their e-commerce site, (rated #2 for customer service by USA Today), or you could have them pop by to design and install a $1M custom home theater. (World Wide Stereo is one of only a few dealers certified to build actual IMAX theaters for zillionaires.) Founder and CEO Bob Cole is fearless, a true pioneer, and he knows good creative when he sees it – a combination that always spurs good work and good results. And in this case, the results have been spectacular.
WWS started off as a small agency account, but I took it freelance in 2008 when the bottom dropped out. (Specialty retail was particularly hard hit.) Within 3 years, the company grew from two small storefronts to national prominence thanks to an ambitious e-commerce effort + smart marketing and messaging – and to underscore just how remarkable that is, consider: Circuit City had a store a block away, and 6th Avenue Electronics (another large chain) had a store directly across the street. Both spent more than 100X what WWS spent on advertising, yet both went out of business – along with Tweeter and a few other much-larger competitors – while WWS soared.
The work here represents a fraction of the work done over the years as the look evolved. WWS did a lot of radio as well – I wrote and directed over 100 spots with the owner, Bob Cole, as spokesperson. (Spots were always smart but self-deprecating, and/or funny but self-aware. Click on my radio page for examples.)
World Wide Stereo pretty much stopped all print magazine advertising in 2012, though they still do a ton of outdoor. At the end, the coupon campaign had about a dozen different executions.
_______________
Ad Campaign • Coupon Copy
Glory
Present this coupon to run with legends. To see the hunger in their eyes, the smudges of blood on their pads, and the white blades of grass that mark the thin edge where success and failure meet. No prior experience necessary.
Guilt
Good for the lingering sense of transgression that comes from being close enough to feel the heat as others, particularly attractive others, push intimacy to its physical limits. Warning: extremely addictive.
Heat
Redeem for a two on, two out, bottom of the ninth at bat. Face a gun on the mound, crowd the plate and whatever you do--don't blink. Can be used over and over.
Immerse
Choose your paradise. Travel to exotic, locales and walk, swim or fly in cool, vivid, colorful worlds. Tour the past, see the future. Play the biggest games, court the biggest stars. Arrive anytime, depart at will. Note: luggage not required.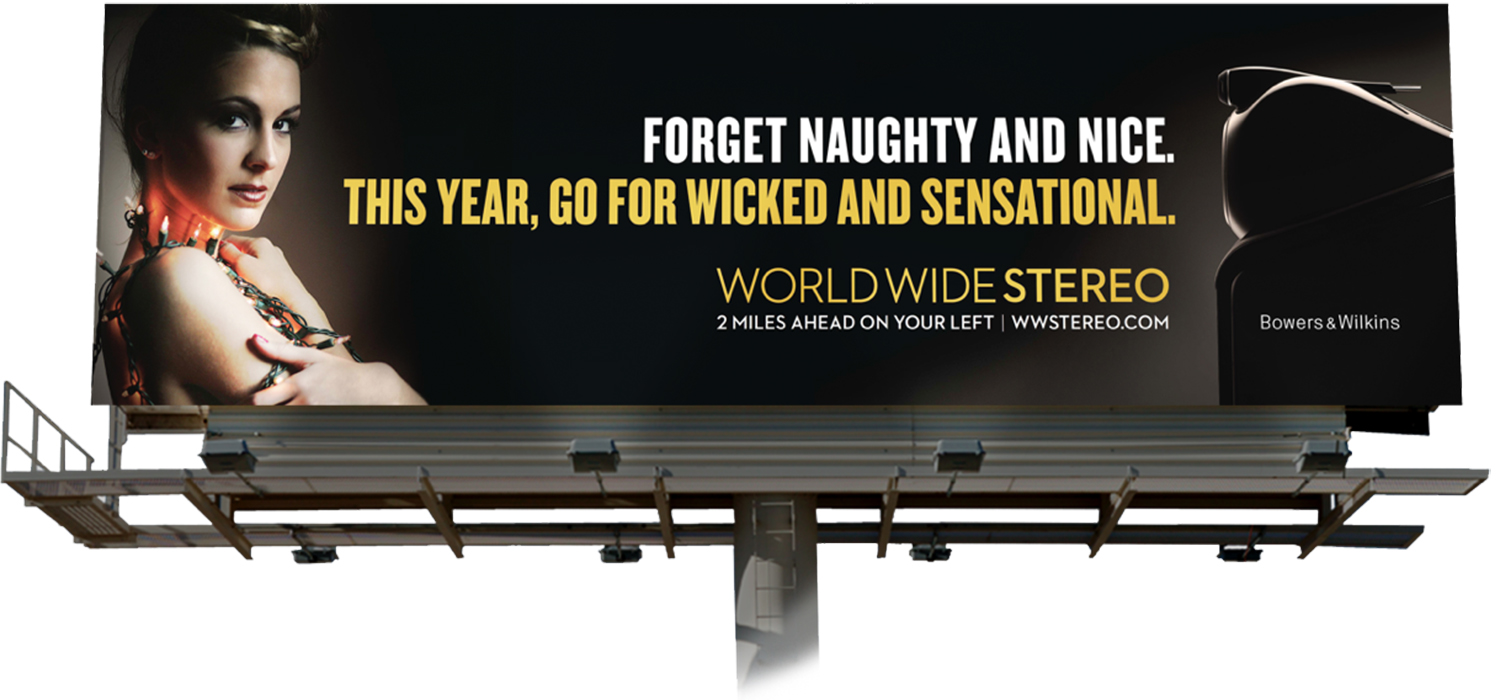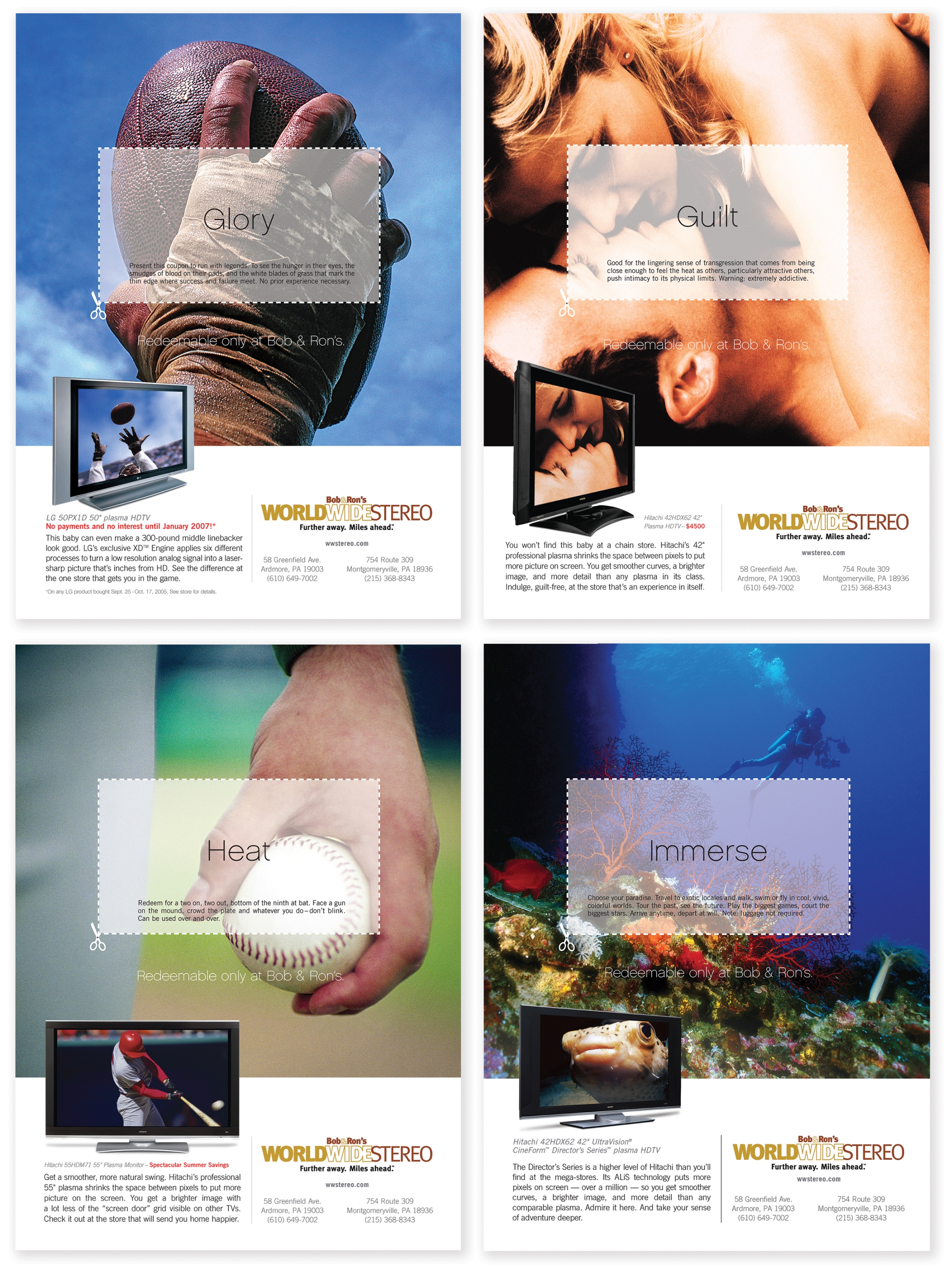 THE FIRST PRINT CAMPAIGN
4 of 10 full-page / 4-color print ads created over two years to run in glitzier city publications like Philadelphia Magazine and Philly Style. The coupons were indeed redeemable, see the copy to the right.
VARIOUS TRAIN PLATFORM SIGNS AND ADS
Literally hundreds of each were created over the years, these are just a few of my favorites. The "help wanted" ad continues to work exceptionally well whenever it runs.




THE ORIGINAL WEBSITE
Conceived, written and produced in house by the agency, our first website for World Wide Stereo featured the owner, Bob Cole, who came to life via full screen video to describe the visceral differences between hi-end home theaters and hi-resolution audio, installed by experts, versus the kinds of goods offered by nearby big box competitors – Circuit City, 6th Avenue, Tweeter (and several others), all of whom went out of business while World Wide Stereo thrived.